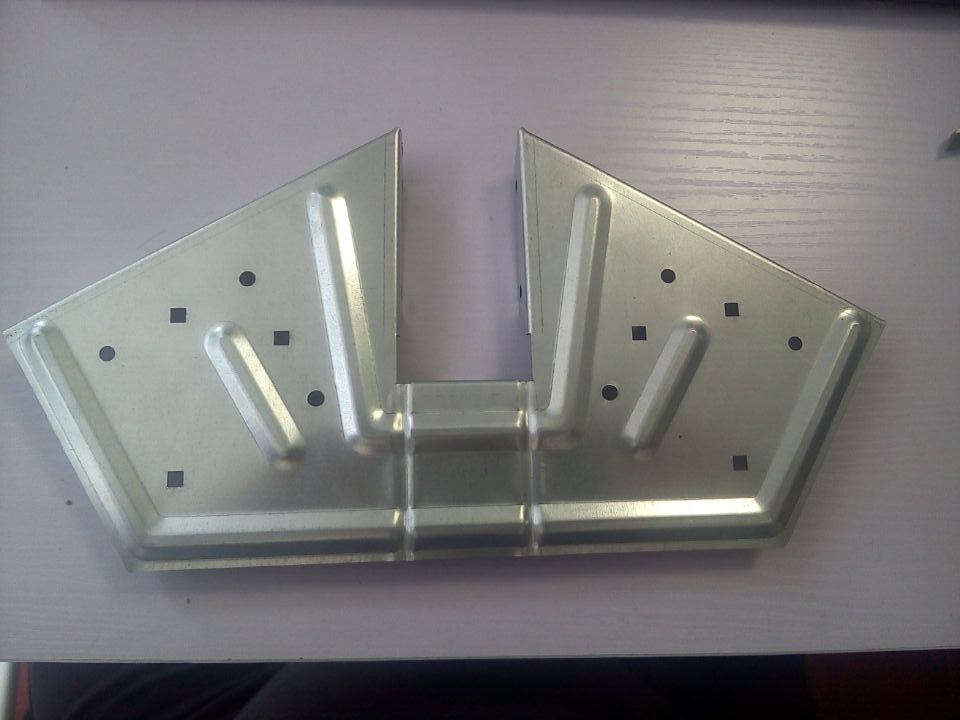 Steel Angle Brackets
Stud Brackets
Question:Is there anywhere we can access the material list prior to ordering? I would like to price out the project to understand what I am getting myself into
Answer:
1) kit
2)8ft. 2x4=29. $3.29 each = $ 100.00
3)10ft. 2x4 = 5. $4.00 each =$20.00
4)8 8ft. Pressure treated 2x4= 10 $4.50 each =$45.00
5) 8 ft. 1x4= 4. $ 3.49 each =$15.00
6) 4x8 ceiling sheets 1/2 inch plywood = 2. $18.00 each = $ 36.00
7) 4x8 sheathing sheets 1/2 inch plywood = 7. $ 20.00 each = 140.00
8)4x8 flooring sheets 3/4 inch plywood = 2. $ 25.00 = $$50.00
9) 64 sq. Ft. Roofing materials. Felt/shake n shingle/roofing nails 2 lbs. $15.00/ $10.00/ $10.00 = $35.00
10) 3 inch nails 16d = 2lbs. I used sheet rock screws 3 inch for dismantling if I ever do. $20.00
11) 1 1/4 in. Deck nails = 2 lbs used screws. $20.00
Total costs are under $500.00
I added windows & vents $150.00
Extremely sturdy & worthy of the costs. The same 7x8 tough shed cost you $1500.00 to $2000.00 add windows $2500.00. & up.
Question:Can I use this for a 20' x 20' shed?
Answer:Yes
Question:I need to put the door on the side rather than the end. Is that possible?
Answer:Absolutely with modifications you can build just about any shed you can think of. These are just your brackets. You don't have to build the ones they send with the kits. But remember if you do enough modifications you may need more brackets then they suggest.
Question:Can this be used to make a 5x5 or 5x6 pump house shed?
Answer:You can adjust to make any sizes...you just need to adjust some of the lengths. You can always send us a email autumn@cangzhoufutong.com if you need more info
Question:what are the different frame sizes you can build with this kit ? Can you make your own size ?
Answer:12'x12'
Question:Can these be returned if not what you wanted?
Answer: Sure
Question:Can you use 2x6s instead of 2x4s?
Answer:No. The brackets are too small for 2x6s.
Question:Can you build the rafters taller for loft space with this kit??
Answer:If you make the rafter longer you will increase the width of the building. You cannot change the angles of the brackets. send us a email autumn@cangzhoufutong.com
Question:How many sheets of plywood are required?
Answer:Depending on the size of the shed. 1 kit builds a 7x8 shed and there is diagrams for two other sized sheds and how many bracket kits you will need. It also gives you a complete list of materials and how much you will need for each size shed.
Question:what gauge is metal?
Answer:1mm
Question:Does the plan also include window installation?
Answer:No, but can easily be figured in
Question:Do the plans give you options for were to put the door ?
Answer:No
Question:Can this kit do a 8 x 10?
Answer:I would say yes with modifications. It come with the materials list for three different sized sheds. One kit will build a 7'wide x8' long shed. If you buy two kits you can build a shed of 8' wide x 14' long. And finally three kits you can build a shed 10' wide x 22' long. Comes with the complete list of what to buy for each size shed. I mean a complete list! From boards, to nails to sheathing. Tells you lengths they need to be. Weather they need to be pressure treated or not. Roofing materials as well as flooring. They've taken the guess work out of most of it for you. Very happy with our purchase! see less
Question:How wide is the door opening in the plans provided?
Answer:You can adjust your door just by moving your framing in or out from 28 to 36 inches they just give you a rough idea I think the standard door way for this is 32 inches but I made mine 36 so she can get bigger things in and out
Question:Do the brackets take #8 or #10 deck screws?
Answer:Materials list calls for 1/4" 32 mm galvanized wood screws and 1/2" 64mm galvanized wood screws