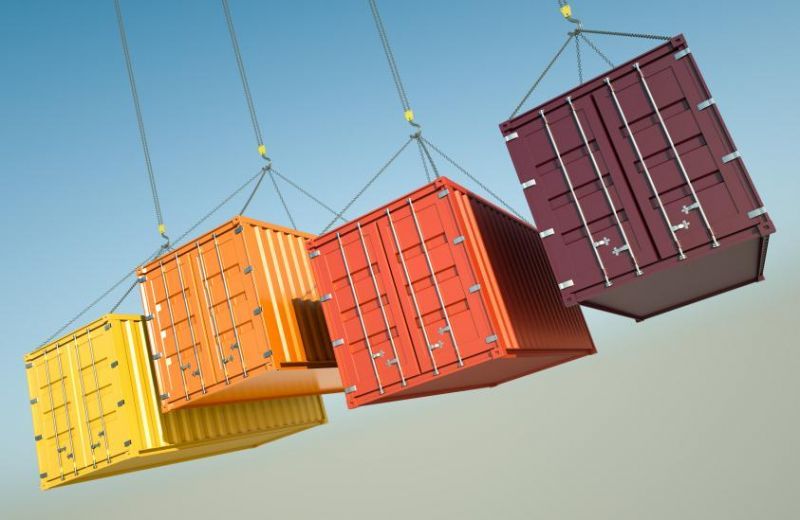 Container shortages on the New Silk Road, and possible solutions
Recently, the shortage of containers has become a source of frustration for the logistics industry. Due to the imbalance between China and Europe trade, a large number of containers is stranded in the European ports and terminals. Both rail and ocean freight operators are facing this problem, which is predicted to last until next year. Transporting empty containers back to China at low cost and with high efficiency might be the key to alleviate the shortage of containers in China. In this case, some new technologies could be taken into consideration.
Growing global trade has generated a higher demand for containers. Triton International, one of the world's largest container leasing companies, said in September that demand for containers accelerated rapidly in the third quarter of 2020, with utilisation almost at full capacity. All available dry containers got booked, and new orders from Chinese factories are not likely to be delivered to Europe until February or March.
However, according to the China Machinery Industry Federation, China's container production had grown positively in August for the first time since 2018. From that, we may say that the capability of producing containers is not the main reason for the shortage. However, due to the structural imbalance between China and Europe trade and the impact of the COVID-19, the westbound volumes are way more than the eastbound streams. As a result, the containers transported from China to Europe cannot be returned with adequate timing. This seems to be the leading cause of container shortage at the moment.
Consequences of containers' shortage
According to media reports, all major carriers are experiencing a shortage of containers at Asian ports, especially in China. The deficit is mainly observed in 40-foot containers. Additionally, many carriers are imposing restrictions on the release of empty containers before they are scheduled for shipment. For example, Hapag-Lloyd can only release empty containers from its warehouses, in mainland China, up to eight days before the expected arrival of a scheduled journey.
Besides the significant increase in the cost of container leasing, the additional expenses caused by the shortage add up to stupendous amounts. A freight forwarder teasingly said: "The availability of containers is more about 'how much you are prepared to pay'." In ocean freight, for example, the additional cost of empty containers skyrocketed from $500 per container to $1,200 per container in three days. Moreover, the containers' pick-up fees at their departing ports are also borne by the shipper, while the average pick-up fee between Chinese and European ports is about three times higher than that of other routes, and has increased exponentially in the past few weeks.
Overall cost increase
It's not just that containers are expensive to lease and use; the container shortage has had a knock-on effect on the cost of the whole supply chain, with freight rates potentially facing increases at any links of the chain. According to data from the Shanghai Shipping Exchange, the shipping fee from Shanghai to the U.S. West Coast rose more than 80 per cent since June this year. In the first week of October, it reached 3,848 U.S. dollars per 40-foot container.
As for the shipment to the East Coast, the prices soared nearly 70 per cent, reaching 4,622 U.S. dollars. The experience of a supplier can be an excellent example of this knock-on reaction. He explains: "When we need 40-foot containers, sometimes we can only find 20-feet ones. That's a problem because factories have to pay fixed rates for terminal handling and documentation for each container. It means, for the same volume, a 40-foot container costs $300 while two 20-foot containers cost double the amount: $600."
What's the solution?
Solving the trade imbalance between China-EU is certainly not an overnight task. Therefore, the need for returning empty containers cannot get avoided in the long term. Nowadays, about one-third of the containers transported are empty; a percentage equal to 60 million a year. The consequences of this situation can be easily estimated. The proper scheduling of containers between cargo terminals requires the cooperation among shippers as well as train platform companies. Good planning can help reduce the demurrage of containers on the one hand and shortage on the other.
Nevertheless, it is difficult to achieve a significant reduction in the cost of transporting empty containers when the imbalance of westbound and eastbound transportation is not addressed. On this occasion, some new technologies created by logistics companies might be feasible tools to realise the low-cost but highly-efficient transporting of empty containers to China.
Folding containers
George Kochanowski of Staxxon, Inc. has developed a method of folding and combining empty containers to facilitate their transport, reduce costs, and simplify loading and unloading. You can see how the folding container works below.
The idea is not new. A Cargoshell Container Project developed a plastic folding container quite a few years ago, manufactured with composite materials, therefore making it about a quarter lighter than a traditional metal container, but still sufficiently resistant to damage. At the same time, it emits much less carbon dioxide than the metal one. Not only is a plastic construction easy to assemble, but it also enhances the GPS signal; thus making it easier to track cargos. However, plastic structures reduce the capacity of containers to one-third of that of conventional containers. This fact could justify why this new type of container is not used widely.
In contrast, Staxxon's steel folding containers provide an advantage in terms of capacity and strength. With five empty folded containers fitting in one container, the reduction in transport costs is evident. Still, some experts are skeptical about it. It's believed that a folding container is more vulnerable to damages, so its life expectancy will be much shorter than the standard's one. Furthermore, its capacity may not be enough. It seems that there is still a long way to go until folding containers become a quality alternative.
Not the volume, but the weight
Swedish company SECU also conducted an interesting experiment. The company's main business is cross-border transportation of paper. For products like paper, it is not the volume but the weight that sets limits in transport. Subsequently, the company designed a unique transport tool, the 'SECU-box', which is larger than a standard container and holds a payload of 4.5 tonnes per meter. Since it is much larger than the traditional transport standards by, approximately 2 tonnes per meter, Sweden's large-gauge railways and larger axle loads constitute the optimal environment for its use. As a result, transport has become more efficient, even if the tool is only applicable to the company's specific needs.
Although the folding container and the 'SECU-box' mentioned above cannot solve the current urgent needs of returning empty containers to China, they provide some innovative solutions. Since the imbalance of containers in westbound and eastbound transport is difficult to change, why not take advantage of technological power to lower the costs of transporting empty containers, or transport the same amount of cargos using fewer containers?
This article is a translation of the original on RailFreight.cn, authored by Huilin Shi.