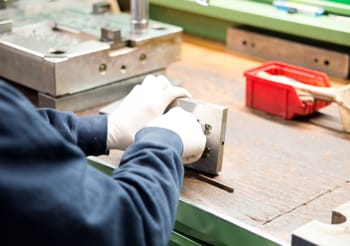 Contract manufacturing is outsourcing components of your project to a company that specializes in the forming of a particular part – and metal stamping is a niche that often requires innovative and proven expertise to deliver the best quality. Knowing which contract manufacturer to trust with your metal stamping needs will depend on the company's track record, reputation, processes, and cost, among other factors.
Progressive stamping companies are reliable for a number of reasons. The following provides innovative and forward-thinking practices to help eliminate bottlenecks while reducing the overall cost per part and lead time.
Common Metal Stamping Methods
Metal stamping companies may use one or more production methods to complete the work for your batch, including the use of:
· Line Dies: Line dies are hand- or robotically loaded tools. Line dies are good for low-production runs or large, awkwardly shaped parts, and can be placed within a single press.
· Transfer Dies: Transfer dies are technically a form of line dies, but they are timed and spaced at an even distance apart in a single press, and the parts are moved by traveling rails mounted within the press.
· Progressive Dies: Progressive stamping uses an automatic feeding system to guide a strip of metal through several stamping stations as the metal unrolls from a coil.
How do you know which supplier and which methods are most reliable? It goes beyond the type of die sets they use. The company you choose should be forward thinking in its approach – willing to go the extra mile, find custom solutions and have a history of quality and delivery.
But what does a reliable supplier look like?
Agile Manufacturing and 5S
One of the best ways to evaluate an organization for reliability is to find out whether they have the processes, tools and training in place that allow them to make and deliver high-quality products and services at a lower cost than their competitors. Their response time is shorter, as well as inventories and raw material turns and they do all this while increasing employee safety, health and satisfaction. This is called agile manufacturing. Neway Stamping practices agile manufacturing as well as the five-step 5S methodology to ensure customers are getting their parts quickly, effectively, and on budget.
The 5S methodology was first implemented in Japan by Toyota Motor Company and derives its name from the Japanese words: seiri, seiton, seiso, seiketsu, and shitsuke. Translated into English, they mean sort, set in order, shine, standardize and sustain, respectively. This methodology was developed as a way to make just-in-time manufacturing possible. Here's a breakdown of how each applies to organizing a workplace for efficiency and effectiveness:
· Seiri/Sort: Remove waste, eliminate obstacles, excess material, tools not being used and unnecessary items
· Seiton/Set in order: Arrange all necessary items for easy selection and use in close proximity. Ensure First In First Out (FIFO) practice and that the most frequently used tools are closest to the workstation.
· Seiso/Shine: Keep workspace clean, safe, and easy to work in. Use cleaning as an inspection method.
· Seiketsu/Standardize: Establish procedures, structures, color codes and workflows so that all workers know their responsibilities as they relate to the first three steps and have a daily routine
· Shitsuke/Sustain: Train, perform regular audits, discipline as needed and create a culture of feedback to ensure steps are implemented effectively; maintain the process but be open to innovation
Combining 5S with agile manufacturing creates a visual management style that can adapt quickly to changing conditions and requirements without driving up costs, which is of significant benefit to the company as well as to customers.
Find Your Fit
Look for a supplier that invests in efficient technologies and whose capabilities span the latest demands of manufacturing industries. Visionary companies tend to be more reliable, as they seek out these types of technologies that save them time and money, passing those savings on to their customers.
Also, consider businesses that utilize the 5S methodology. Streamlining the process internally will create an end-to-end experience for the customer that is free of bottlenecks, interruptions and missteps. The 5S methodology can have several distinct advantages, including:
· Less downtime: A clean, organized space leads to a faster, more efficient process, getting you your parts quicker.
· Less waste: The 5S methodology inherently reduces waste by eliminating clutter, scrap materials and unused and unnecessary supplies. This gives customers the confidence that they're working with a company who values a clean and sustainable environment.
· Higher efficiency: Simply changing the layout of a manufacturing floor and the placement of materials and equipment help to increase efficiency, meaning your parts are being completed by employees who are less fatigued, safer, and more engaged in their work—giving you an end product of high quality, quickly.
· Reduced cost: The contract manufacturer that follows 5S methodology is eliminating unused materials, tools and equipment, reducing excess clutter, and organizing their space efficiently. That translates to significant space savings, and therefore, lower rental, heating/cooling, cleaning and maintenance costs for the manufacturer – which can be passed along to the end customer.
· Improved morale: Safe, organized employees are happy employees who are more likely to be highly committed to their tasks. A clean and pleasant workspace can create an atmosphere where the contract manufacturer's employees are more focused on the job at hand – your product. This can lead to better quality products and fewer missteps.
Neway Stamping is focused on providing long-term value by becoming a leader in its industry and has newly embraced the 5S methodology in 2018. We have already seen tremendous benefits that impact our employees, processes, and customers.
Neway's decades of engineering and production experience has evolved and refined a solid foundation of helping customers by creating customized parts. Neway partners with each customer to ensure the parts are completed on time, to specifications, and of the highest quality.
Want to learn more? Click here to contact one of Neway's team members to discuss your specific needs.